s.frueh@unesco.org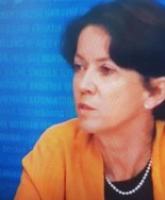 Susanne Frueh
Director, Internal Oversight Service
UNESCO
Susanne has some 30 years of work experience with seven different UN entities combining operational and management experience with hands-on evaluation, results-based management and strategic planning expertise. Following work in consulting and programme management during her earlier career, she has worked at senior leadership level in the evaluation functions of the United Nations Capital Development Fund (UNCDF),1996 - 1999, the World Food Programme (WFP), 1999-2002 and the UN Office for Humanitarian Coordination (UNOCHA), 2002-2007.  Between 2009 and 2014 she was the executive secretary of the Joint Inspection Unit, a subsidiary body to the United Nations General Assembly with system-wide mandate for evaluation, inspection and investigations.
In July 2014 Susanne took up her current position as the director of the internal oversight service of UNESCO in Paris.  In this function she directs the internal audit, evaluation and investigations functions of UNESCO and is a member of UNESCO's Senior Management Team. 
In 2011, Susanne was nominated by the Secretary-General to be a member of the Interim Coordination Mechanism for system-wide evaluation responsible for developing and negotiating a new UN policy on independent system-wide evaluation. She also served as an Advisory Board member of the mid-term review on the Hyogo Framework for Action (2011-12) and as a peer panelist or peer advisor on the evaluation functions/policies of FAO (2004, 2016), WFP (2007,2013/14), IFAD (2015), the UN Office for Internal Oversight Services (2012) and UNRWA (2015).