drssarfraz@gmail.com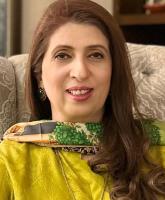 Shabnum SARFRAZ
Member Social Sector & Devolution
Planning Commission, Government of Pakistan
Dr Shabnum Sarfraz is an internationally recognized senior development professional with 15+ years of leadership experience leading NGOs, policy think tanks, and government offices; steering large-scale high-impact reforms and project portfolios with cumulative value of over $1.2 Billion; She has been leading multi-disciplinary, cross-cultural teams & has worked collaboratively across institutions both locally & internationally. She served the Federal Planning Commission, Government of Pakistan, headed by the Prime Minister where she was heading the complete cluster of social development portfolio in Pakistan & was responsible for the overall financial control & oversight of the cluster's delivery & performance. She has been serving as the focal point for coordination with ministers, senior bureaucrats, bilateral & multilaterals for social cohesion & social protection agenda & facilitating investments in social development with a cross cutting focus on addressing gender fault lines.
Dr Sarfraz also led the National COVID19 Secretariat and despite the economic contraction, managed to secure 410 percent higher allocation for health sector in Pakistan. She steered the development of the recently launched national gender policy framework for Pakistan and founded the Women in Global Health chapter in Asia, bringing together 900+ women leaders for advancing gender development agenda.
Dr Sarfraz holds an MBA from Surrey University UK; a bachelor's in medicine from Pakistan; post-graduate certifications from Harvard University, McGill University, London School of Hygiene and Tropical Medicine and Johns Hopkins University. In 2019, Dr Sarfraz was selected in the inaugural cohort of the Harvard Women in Global Health LEAD Fellowship from a global applicant pool and recently won the Vice-Chancellor's Alumni Awards 2021 as conferred by the University of Surrey, UK in recognition of extraordinary professional achievements. Earlier in 2014, she received the USAID Maternal and Child Health Program Partner of the Quarter Award for outstanding performance, attention to detail, team spirit, and commitment to excellence.