monirulislam.71@gmail.com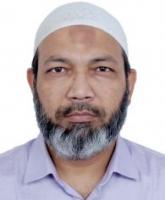 Mohd. Monirul Islam
Deputy Chief
General Economics Division of Bangladesh Planning Commission
User Category:
Government
Mr Monirul is the Deputy Secretary of the Prime Minister's Office to deal with SDGs issue. He is attached to the Principal Coordinator (SDGs Affairs), a high-level post created at the PMO to look after the coordination issue of SDGs implementation.
Prior to joining the PMO, he worked as the Deputy Chief of General Economics Division (GED) of Bangladesh Planning Commission.
After the adaptation of Agenda 2030 by the UN General Assembly, the Government of Bangladesh has constituted a 20-member "SDGs Implementation and Review Committee", where the Principal Coordinator of the PMO is the convenor, and GED is the secretariat.
He was involved in the preparation of the following documents of the Government of Bangladesh related to SDGs:
(a) SDGs: Mapping of Ministries/Divisions,
(b) SDGs Data Gap Analysis of Bangladesh,
(c) SDGs Needs Assessment and Financing Strategy of Bangladesh,
(d) Voluntary National Review of SDGs Progress of Bangladesh,
(e) National Monitoring and Evaluation Framework of SDGs, and
(f) SDGs Action Plan.
Mr Monirul has completed a Master of Public Policy (MPP) from the National Graduate Institute for Policy Studies (GRIPS) of Japan. He has an MSc in Economics and BSc (Honours) in Economics both from the Jahangirnagar University of Bangladesh. His keen interest is on the formulation of long and mid-term plans, policies and strategies of different development agenda. In the last 21-year civil service, he worked in: (a) Ministry of Public Administration, (b) Ministry of Health and Family Welfare, (c) Ministry of Home Affairs, and (d) Planning Commission. He was involved in the preparation of the 6th Five Year Plan and the 7th Five Year Plan of Bangladesh. He was involved in the preparation of different publications related to MDGs Progress of Bangladesh. He was actively involved in the finalization of the National Social Security Strategy (NSSS) of Bangladesh.