Building the First-Ever Partnership Focused on Addressing Global Gaps in Evaluation Capacity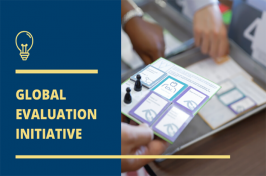 With the ten-year countdown to the Sustainable Development Goals (SDGs) now underway, and countries across the globe struggling to cope with the COVID-19 pandemic, the capacity to gather data to inform decisions, and to monitor and evaluate the impact of policies, is now an urgent priority. A broad coalition of governments and national and international organizations have agreed to establish the first-ever global partnership focused on addressing the worldwide gaps in monitoring and evaluation capacity.
In June 2020, a range of donor countries and organizations met for the first time in a Co-Creation Workshop to discuss concrete steps towards establishing an inclusive partnership to meet the global demand from developing countries for stronger monitoring and evaluation systems and capacity. The aim of the partnership is to increase coordination for greater impact among the various national and international initiatives aimed at building evaluation capacity, and to pool resources and draw on local and global expertise and knowledge to scale up these efforts.
The workshop was a three-day virtual brainstorming discussion focused on building consensus around a joint vision of the global partnership. Ahead of the workshop, a series of consultations were held with representatives from countries committed to strengthening their M&E systems and capacities, to understand the challenges they face, and how best to support their programs.
"Effective monitoring and evaluation systems are an essential ingredient for advancing the sustainable development goals as they foster accountability and evidence-based policy making," said Oscar A. Garcia, Director, Independent Evaluation Office, UNDP. "This innovative partnership will take us a step closer in addressing the worldwide demand from countries for stronger M&E systems and capacities for more inclusive and sustainable development results."
The current demand for evaluation capacity development far outstrips the resources and reach of any single institution, and the impact of the many programs launched to meet this need is diluted by a lack of coordination. Earlier this year, IEG and the UNDP's Independent Evaluation Office (IEO) signed an agreement on closer collaboration on meeting this need. Recently, IEG also signed an agreement with Canada's École nationale d'administration publique (ENAP) in order to coordinate actions and pool expertise and resources towards meeting the need for stronger M&E systems and capacity in key, under-served regions of the world.
"The lack of robust monitoring and evaluation systems leaves many countries at a disadvantage and has become an ever more urgent development challenge in the face of the fast-moving coronavirus pandemic," said Alison Evans, World Bank Vice President and IEG Director-General. "Only by working together will we be able to address the global gaps in evaluation capacity, and ensure no communities or countries are left behind."
Along with developing a joint vision, the participants in the Co-Creation Workshop also discussed the key lines of business and activities in providing countries support on strengthening their monitoring and evaluation systems and capacities. They also discussed other important aspects of the partnership, such as its operational principles, budgetary and administrative arrangements, and its governance structure. The workshop concluded with an agreement amongst the participants on key steps and actions they will be taking in collaboration with the co-hosts of the workshop - the Independent Evaluation Office (IEO) of United Nations Development Programme (UNDP) and the World Bank's Independent Evaluation Group (IEG) - and other partners towards launching the partnership later this year.